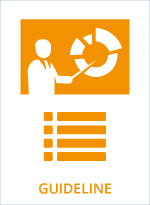 JSUM ultrasound elastography practice guidelines: liver
2013 Journal of Medical Ultrasonics 40, 4 (325-357)
Transient elastography
FibroScan (Echosens)
Indication
FibroScan is indicated for patients who have or who are suspected to have chronic liver disease and require an assessment of liver fibrosis. For example, because aggressive therapy is recommended for patients with advanced fibrosis, the severity of liver fibrosis in chronic hepatitis C patients needs to be diagnosed before deciding an indication for treatment with potential side effects. In addition, the rate of fibrosis progression can be estimated by performing measurement on a regular basis, and the elastic values of liver tissue are an important indicator for the screening of esophageal varices. FibroScan is also useful in the assessment of hepatitis B, alcoholic hepatitis, non-alcoholic steatohepatitis, autoimmune liver disease such as primary biliary cirrhosis and primary sclerosing cholangitis, and HCV-HIV co-infection cases. FibroScan has also been used to evaluate the severity of portal hypertension after a liver transplant. Because it is extremely minimally invasive and can be completed quickly, FibroScan will be useful for the screening of chronic liver disease in outpatients with diabetes. [...]
Recommendations
FibroScan is the most popular and highly trusted liver elastography technique because of the large amount of validation data accumulated to date. The system is recommended for the screening of chronic liver diseases and follow-up observations. Depending on the existing disease conditions, measurement values may not accurately reflect the actual severity of liver fibrosis, and the system should therefore be used with the limitations described above in mind.